As the 2022 UNFCCC Climate Change Conference gets underway in Sharm El-Sheikh this week, we are delighted to announce the launch of a new series of policy papers commissioned by TESS with partners on "Regional perspectives on trade, climate change, and sustainable development." In a first phase, the series offers views from Africa, the Caribbean, South America, South Asia, Southeast Asia, and the broader category of least developed countries. Each paper has been prepared by experts and in partnership with institutions from the region.
The purpose of the regional series is to explore how international cooperation on trade and trade-related policies can support the climate change mitigation and adaptation efforts and priorities of developing countries and foster pathways to climate-resilient sustainable development.

While many discussions are now taking place on trade and climate change in a range of international settings, including at the WTO, most are dominated by concerns, policies, and proposals from more advanced economies. In an effort to spur a more inclusive dialogue, the series supports the bottom-up formulation of developing country priorities on trade, climate change, and sustainable development, including how to advance them at the regional and multilateral levels.

This week, we are releasing the first paper in the series which outlines an African narrative on trade and climate change for the UNFCCC Climate Change Conference (COP27) and beyond, focusing on trade, climate-resilient development in Africa, and a global green new deal. The second and third papers on Latin American perspectives and Caribbean perspectives will be available in the coming weeks. We hope you will find the series useful and look forward to discussion on their findings and recommendations.
TESS is also present this week at COP27, with Director Carolyn Deere Birkbeck moderating two high-level UN system side-events on 10 November: an expert panel on "Accelerating the low-carbon transition through sustainable and inclusive trade" and an event on "How combatting plastic pollution and illegal traffic in plastic waste can help reduce carbon emissions." You can also scroll below for links to recent TESS publications and resources on climate and trade.
Trade and Climate-Resilient Development in Africa: Towards a Global Green New Deal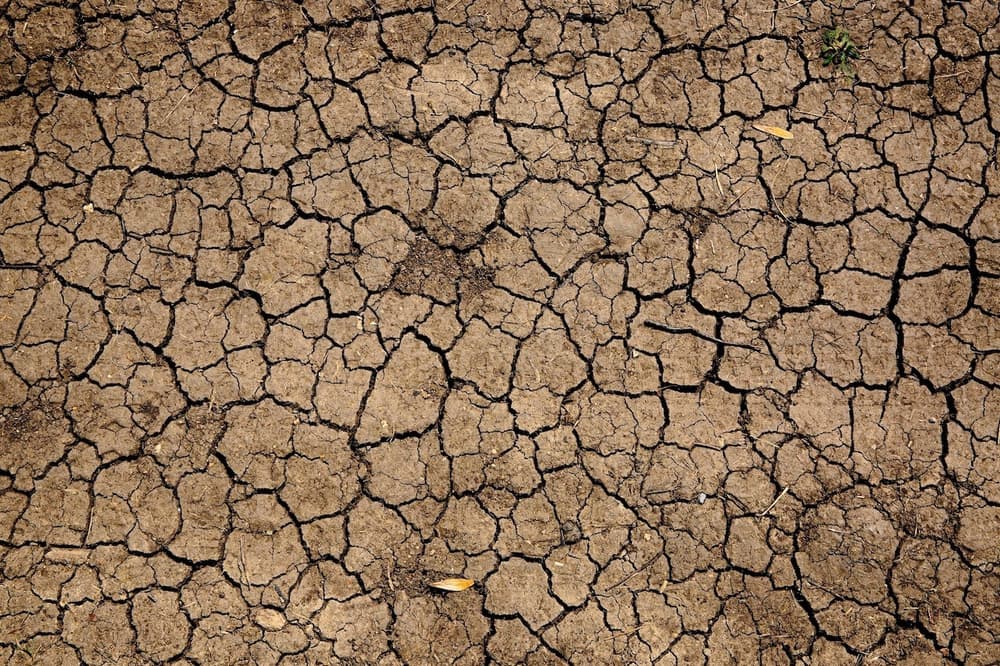 In the first policy paper of the series on regional perspectives, Professor Faizel Ismail identifies key issues at the intersection of trade, climate change, and sustainable development from an African perspective, arguing that the African region should assert its agency in contributing to a compact on a global green new deal.

The paper outlines several pathways through which Africa can mainstream climate change into its development strategy to advance climate-resilient development including; renewable energy and transformative green industrialization; agriculture, food, and nutrition security and climate change adaptation; strengthening its development finance institutions; and engaging in multilateral fora such as the World Trade Organization.

The paper proposes three levels of engagement—global governance, regional integration in Africa, and South-South relations—where African countries can advance their interests on trade and climate-resilient development and also contribute to the global effort to transition to a low-carbon economy. At the global level, Faizel Ismail argues that developing and developed countries should work towards a positive trade and environment agenda that focuses on building developing country capacities to advance their development and climate goals.

The paper is co-published with the Nelson Mandela School of Public Governance at the University of Cape Town.
Regional Perspective Events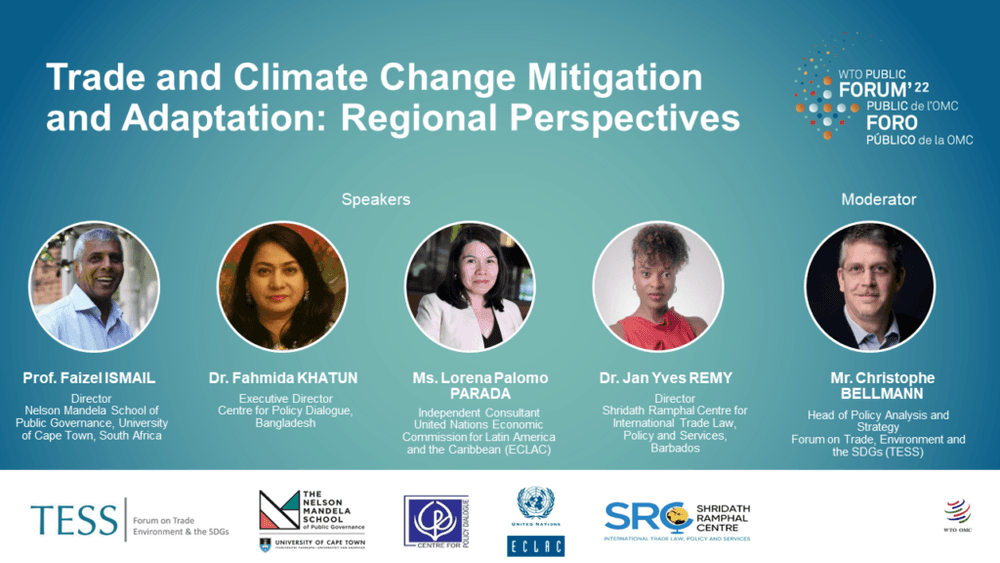 Our series of regional perspective policy papers is informed by consultations with regional stakeholders and aims to spur dialogue among government officials, academia, the private sector, and civil society, and Geneva-based trade negotiators. You can view the presentations made at regional consultations on Southeast Asian, Latin American, and African perspectives. Others will follow soon. A video is also available of a working session on regional perspectives co-hosted by TESS and partners at the 2022 WTO Public Forum.

Through this work, TESS is not only supporting attention to developing country priorities on trade, climate, and sustainable development, but also the engagement of climate and trade experts and stakeholders from developing countries in relevant policy discussions. We encourage you to join us in this effort.
Other TESS Publications on Trade and Climate Change
Updated TESS Policy Brief on Trade and Climate Change in the World Trade Organization
This policy brief by Christophe Bellmann, updated for COP27, explores the relationship between trade, climate change, and sustainable development, and the potential for trade policies to help address the climate crisis in the context of international cooperation at the WTO. It looks at how and where these issues have been discussed in the multilateral trading system and suggests possible options for meaningful cooperation.

Securing a Just and Inclusive Global Green Economy Through Trade Policy
This TESS briefing note by Nicolas Lockhart, Dominic Coppens, Katherine Connolly, and Stella Perantakou sets forth a vision for the green transition; rules and principles for the design of trade-related environmental and climate measures; and a diagnostic exercise for the development of data-driven trade policy. The note is part of a series of expert contributions curated by TESS designed to inform and enrich dialogue on trade, environment, and sustainable development, with a focus on advancing multilateral cooperation and action.
Developing Country Perspectives
View the series of policy papers commissioned by TESS with partners on Developing country perspectives on trade, climate change, and sustainable development.