The Trade Ministers of Ecuador, the EU, Kenya and New Zealand co-hosted an informal breakfast dialogue in Geneva on the nexus of trade, climate and sustainable development. The meeting was attended by trade ministers representing different regions and levels of development. The organization of the breakfast dialogue was facilitated by TESS.
Together, the co-hosts of the breakfast have agreed to work jointly to forge an inclusive Coalition of Trade Ministers on Climate, reflecting their shared commitment to bringing the fight against climate change to the forefront of trade policy.
They met with a diverse group of trade ministers to start a conversation and enhance international cooperation so trade and trade policies can support the Paris climate goals, sustainable development, environmental sustainability and a just transition.
The co-hosts introduced their vision of an inclusive Coalition of Trade Ministers on Climate and invited ministers to share views on priorities and ways forward for ministerial-level cooperation.
Links to the statement issued by each of the co-hosting ministers after the breakfast as well as their respective comments are below.

Daniel Legarda, Vice Minister of Foreign Trade of Ecuador
The Vice Minister said "To tackle pressing environmental challenges is not only ethical and the right thing to do, it is also economically sound. Climate change, along with pollution and biodiversity loss require a collective and coordinated global response, including on trade dimensions. We are delighted to be working with the European Union, Kenya and New Zealand on a shared vision of forging an inclusive and high – level dialogue on trade and climate and its contribution to sustainable development. As we build cooperation on trade and trade policies that support ambitious climate action – inclusiveness, leadership and trust at the highest-level will be vital to a just transition."
Ecuador's statement after the event is available here.
Valdis Dombrovskis, Executive Vice-President and Commissioner for Trade of the European Commission
He said "I am proud to be working together with the Ministers of Ecuador, Kenya, and New Zealand on this inclusive platform to strengthen collaboration on trade and climate and environmental sustainability. Fighting climate change is an EU priority. We know that trade plays an important role in tackling this generational challenge, which is why our new EU trade strategy is the greenest ever. But climate change is a global problem and only by working together we can find truly global solutions. This Coalition will build a joint action to tackle the climate crisis in a fair manner through trade policy."
The EU's statement is available here.
Betty Maina, Cabinet Secretary for Industrialization, Trade and Enterprise Development of Kenya
She stated "We should all be cognizant of the fact that climate change is one of the triple planetary environmental crises affecting the globe and therefore, the Coalition of Trade Ministers on Climate will work extensively to provide a unique platform for top-level engagement on the trade and climate nexus. Trade should not only empower and improve the livelihoods of communities but should also serve as a catalyst for climate solutions by transitioning to more circular economy-driven development. Kenya, like many countries, has been adversely affected by climate change and has taken bold steps to adapt and mitigate the impact. We are therefore taking another timely and critical step to work together with like-minded countries to fulfill the shared global responsibility of ensuring that trade and trade policy play their expected role in mitigating the adverse effects of climate change, in recognition of our joint commitment to implement the promises we made in the Cop 26 Glasgow Climate Pact."
Kenya's statement is available here.
Damien O'Connor, Minister for Trade and Export Growth of New Zealand
He stated "We know what challenges lie ahead from climate change; we know what we need to do; we know what we can do through trade policy; and we have the tools to do the job. We now have the platform to mobilise our common will to fix the problem and to cooperate to pull the many threads of action together in a coherent and effective way. The Climate Coalition is a timely and critical initiative that brings Ministers together to provide high level political direction to support technical work at the WTO, and to ensure that actions in the WTO, APEC, G20, G7 and other forums are pulling in the right direction, that there are no gaps in critical areas, and resources are directed to the right priorities and not wasted."
New Zealand's statement is available here.
The WTO Director General, Dr. Ngozi Okonjo-Iweala, participated in the breakfast at the invitation of the co-hosts. The organization of the breakfast dialogue was facilitated by TESS and moderated by our Director, Dr. Carolyn Deere Birkbeck.
Building on positive interest expressed in the first breakfast conversation, the co-leads noted that they plan to meet in July to decide on next steps on forging the new coalition, taking into account views of a diversity of Ministers. Subsequently, the co-leads plan to organize the first Coalition meeting early next year.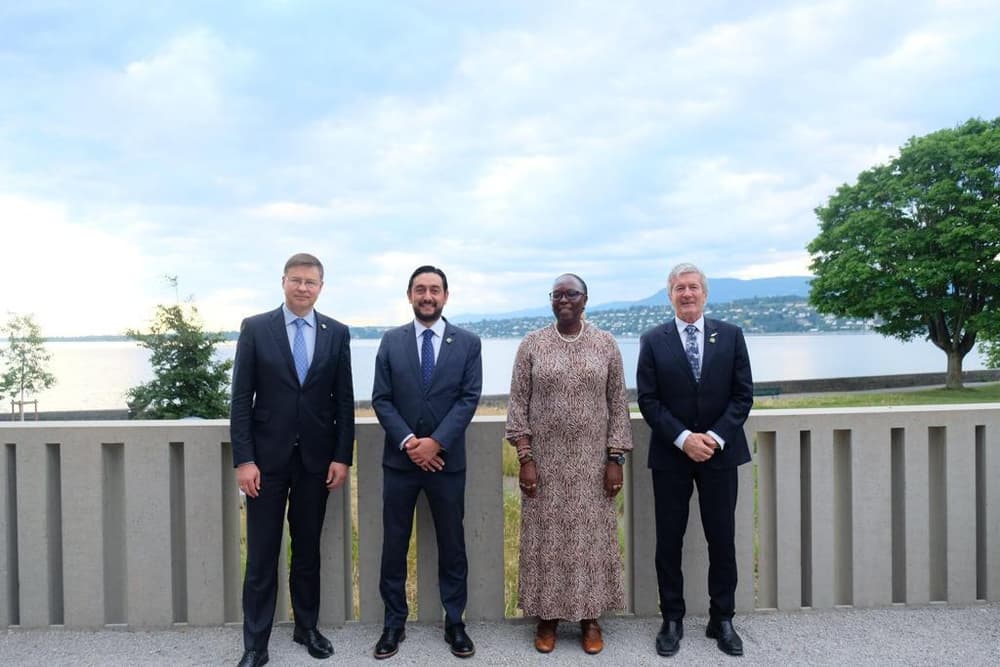 Coalition of Trade Ministers Website
Visit the coalition website for more information, including the full list of members.